Commonwealth Games Foundation of Canada
Bruce Wilkie Next Generation Athletic Award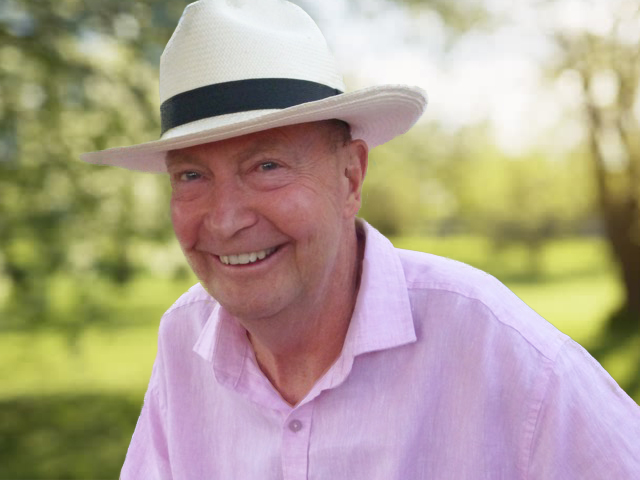 BRUCE WILKIE
1948 – 2017
Bruce was a lifelong athlete with a deep passion and dedication to the Commonwealth sport movement and the Commonwealth Games. His commitment was demonstrated by his successful international ticketing consulting practice that left financial legacies for five Commonwealth Games between 1994 and 2014, and his role as Commonwealth Games – Director, Marketing from 2014 to 2016.
Bruce was an ardent supporter of the potential of Commonwealth sport to empower Canadian youth. Partnered strongly with sport, Bruce believed in higher education to develop the life long skills of young Canadian athletes to compete in today's society.
Like many of Canada's Commonwealth athletes, Bruce stared down and overcame great adversity. Diagnosed with leukemia in 2010, he received a successful stem cell transplant and continued his zest for life, only to be saddled with another terminal diagnosis of pulmonary fibrosis in 2016. Due to Bruce's exceptional fitness, life long commitment to running and extraordinary mental focus, he received a double lung transplant in 2017. He died of complications from this high risk surgery, but he never wavered from his goal of receiving new lungs.
Not all athletes will be gold medal winners, but to help build Canada's next generation on and off the field of play, your donation to the Bruce Wilkie Next Generation Award for student runners will ensure Bruce's legacy of supporting Commonwealth sport lives on.
WHERE YOUR DONATION GOES
Your donation will help Commonwealth runners with awards of $2,500 to assist them in achieving a higher level of sport, compete at the next Commonwealth Games, and make all Canadians proud of the next generation of athletes and citizens. Runners who are still pursuing both their educational and athletic goals will be eligible for this award.
Commonwealth Sport Has The Power To Change Lives!
CGFC Board of Directors
CGFC raises and grants funds to Commonwealth Games Canada to fulfil its Mission – Building a Better Commonwealth Through Sport. Incorporated in 1982, CGFC has granted over $20 million to Canada's Commonwealth Games Teams and to CGC's international sport development program, SportWORKS. CGFC is a registered charity led by volunteer Board of Directors comprised of business people from across Canada.The Commonwealth Games Foundation of Canada raises funds through corporate donors and events and through generous Canadians, like you.
Andrew Pipe, President

2009 –
Dr. Andrew Pipe received his MD from Queen's University in 1974 and is currently Chief of the Division of Prevention and Rehabilitation at the University of Ottawa Heart Institute and a Professor in the Faculty of Medicine at the University of Ottawa.
Dr. Pipe's research interests include the assessment of new approaches to smoking cessation, the facilitation of exercise adoption, and novel initiatives to prevent cardiovascular disease. Previously the-President of the Canadian Academy of Sport and Exercise Medicine and the Founding Chair of the Canadian Centre for Ethics in Sport Dr. Pipe continues to serve as the Team Physician to Canada's National Men's Basketball and Canadian Women's National Soccer Teams. A member of the Canadian Olympic Hall of Fame (Builder) and the recipient of the International Olympic Committee's Award for "Sport, Health and Well-Being" Dr. Pipe is also a member of the Board of ParticipACTION and the Heart and Stroke Foundation of Ontario.
Dr. Pipe has received honourary degrees from Queen's University (LLD), Brock University (DSc) and the University of Guelph (DSc). Born in Nottingham, England, Dr. Pipe currently resides in Ottawa and in 2002 was named to the Order of Canada.
Bruce Robertson, Treasurer & Past President

2009 –
Bruce Robertson has been actively involved with CGC for over 30 years as a Member-at-Large, Treasurer, Vice President, and as President of the Commonwealth Games Foundation of Canada.
Presently, he is Vice President of the Commonwealth Games Federation (CGF) and Ex Officio Member of the CGC Board of Directors. He is also the Chair of both the CGF Marketing and Coordination Committees. Bruce is known professionally for his excellent project management skills as a systems consultant throughout North America. His earlier professional experience included postings in Dusseldorf, Germany and Toronto with a major international consulting firm.
As a competitive swimmer, Bruce won 16 medals for Canada in international competitions. At the 1974 Commonwealth Games, he was the most decorated Canadian athlete, winning a total of six medals. At the 1973 World Aquatic Championships, he won the gold medal in the 100m butterfly and a relay bronze medal. At the 1972 Olympic Games, he won one silver and one bronze medal.
In recognition of his athletic accomplishments, Bruce was named Canada's Male Athlete of the Year in 1973 and was awarded the Order of Canada a year later. In 1977, he was inducted into Canada's Sports Hall of Fame. He is also a member of the Canadian Aquatic Hall of Fame, the British Columbia Sports Hall of Fame, and the Canadian Olympic Hall of Fame. Bruce is a resident of Manotick, Ontario.
Sean Shannon, Director

2013 –
Sean brings over 30 years of global business experience and brand building success to the organizations he is involved with. Currently, Sean is the COO for Busbud Inc., an online travel service for finding and buying intercity bus tickets around the world. Prior to this, Sean spent 14 years at Expedia, Inc., including over 10 years as Managing Director of Expedia Canada, and 4 years also as leader of Expedia Latin America and Australia/New Zealand business units. During his time at Expedia, Sean lead the growth of Expedia.ca from its first days of operations to scaling to well over $2 billion per year in travel bookings by Canadian customers.
Prior to joining Expedia, Sean held several executive positions including Vice President, Business Development for Molson Breweries. Sean began his career at Procter & Gamble in brand management.
Sean holds an Honours Bachelor degree from the Ivey Business School at the Western University. He is also sits on the Board of Directors for Food For The Poor Canada, is a past American Marketing Association of Toronto board member, and served on the Marketing Hall of Legends Canada executive for many years from its inception. Sean lives in Toronto with his wife and has 3 adult children.
John Stanton, Director

2013 –
John Stanton is a best-selling Canadian author of eight books on running and walking, and founder of the Running Room – North America's largest specialty retailer of running & walking footwear, apparel, accessories, electronics, and nutritional products. After starting the company in 1984 with a small one-room store in the renovated living room of an old house in Edmonton (hence the name 'Running Room'), the company has since expanded to over 100 corporately-owned stores across Canada and the U.S. Today, Running Room is one of North America's most recognized names in running and walking.
A coach, author and entrepreneur, John has run over 60 marathons, raced the Canadian and Hawaiian Ironman competitions, and actively works in many cities to help raise awareness for community-wide fitness and weight loss initiatives. He has also been featured on numerous radio and television programs across Canada and the United States, and is recognized across North America for his significant contribution to the prevention of cardiovascular disease and the promotion of cardiovascular health in Canadians.
John has been a Vice President with the Commonwealth Games Association of Canada (CGC) Board of Directors since 2006. John's awards & recognitions include;
2004 Canada Day Honour Roll - Maclean's Magazine
2009 Canadian Cardiovascular Society Dr. Harold N. Segall Award of Merit
2010 Award for Excellence in Health Promotion - Canadian Medical Association
2010 Released his book: "Running - The Complete Guide to Building Your Running Program"
John lives in Edmonton and is an Hon. Lt Col. with the Loyal Edmonton Regiment (4 Princess Patricia's Canadian Light Infantry). He was named to the Order of Canada in 2009.
Pradeep Sood, Director

2014 –
Pradeep Sood is a successful business executive who is based in Markham, Ontario. He has devoted his time and energies to his family, building businesses and supporting the community.
He is co-owner and Director of Highbury Canco Corporation, a food processing company that purchased the Heinz facility in Leamington, Ontario. This acquisition helped save more than 250 jobs. Pradeep is also the founder and owner of XactScribe Inc., a Toronto based Transcription Company; and OutSource Process Inc., a company engaged in the provisioning and delivery of off shore Business and Knowledge based IT enabled processes. As CEO of Starling Corporation, he leads a management consulting company that facilitates SME's in the Canada-India business corridor.
Pradeep has the proud distinction of being the only person who has been Chairman of the Ontario Chamber of Commerce, President of the Indo-Canada Chamber of Commerce, Director of the Toronto Board of Trade and Director of The Canadian Chamber of Commerce.
As a passionate member of the charitable world, Pradeep has helped raise funds for the Royal Ontario Museum, Bridgepoint Health, Textile Museum of Canada, Harbour front Centre and Markham Stouffville Hospital (to name a few). He has also been a Director of Prostate Cancer Canada and a member of the Civic Action Steering Committee. He currently sits on the Board of Skin Cancer Canada, Markham Stouffville Hospital Foundation, The Commonwealth Games Foundation of Canada and George Brown Colllege.
Pradeep has a Bachelor of Arts degree ( Hons. Economics), holds a Chartered Accountant designation from the Institute of Chartered Accountants of India and is a member of the Institute of Corporate Directors, Rotman School of Management, Toronto.
Reg Milley

2014 -
Reg Milley served as the Chief Executive Officer and President of Edmonton Regional Airports Authority (Edmonton International and EIA) from February 2005 to January 27, 2014. Mr. Milley served as the Chief Executive Officer of Halifax International Airport Authority. He served at Halifax Stanfield International Airport from 2000 to 2005.
Reg has developed a strong relationship with the community, and has been recognized for his expertise and leadership through a number of awards, including being named one of Atlantic Canada's Top 50 Chief Executive Officer's by Atlantic Business Magazine (2002). His leadership expertise includes a number of appointments, including his current responsibilities as the Chair of the Canadian Airports Council, which acts as the voice of Canada's airports working with public policy makers and other stakeholders on issues of common interest to airports across Canada. He has been a Member of Advisory Board of Directors at Hudson News Company Inc. since December 2014. Mr. Milley served as a Director of Airports Council International-North America. Most recently Reg served as the Co-Chair of Edmonton's 2022 Commonwealth Games Bid.
Joe Lougheed

2015 -
Joe is a Partner in the Calgary office of the global law firm 大成 Dentons, where he focuses corporate law and corporate governance.
Joe has been an active community volunteer for many years. Joe is currently the Honorary Consul for the Government of Sweden in Southern Alberta and is the Immediate Past Chair of the Board of Governors of the Southern Alberta Institute of Technology (SAIT) and is a Past Chair of the Calgary Chamber of Commerce. Joe has also served as a Director of the United Way of Calgary & Area and as a Director of numerous other not-for-profit boards and institutions.
Joe is a fourth generation Calgarian. Proud of his Metis roots, Joe's great-grandmother grew up in a Hudson's Bay Company fur trading family in the McKenzie District of the North West Territories. Joe is married to Vivian with two children, James (12) and Cleo (9).
Steve Jones

2015 -
A senior executive with communications, operations, marketing, government relations and human resources experience, Steve also possesses a proven personal commitment to the charitable sector. Most recently Steve served as President & CEO of Prostate Cancer Canada. Prior to joining PCC, Steve served as Vice President, Marketing and Communications for Promotivate LP, one of the most successful promotions/marketing companies in North America. With Siemens Canada for 11 years, he was Senior Vice President, growing the Siemens brand in Canada while leading the Communications, Government Relations, H.R. and Strategic Planning groups.
In addition to recently completing a two year term as Chairman of the Ontario Chamber of Commerce, Steve has served on the boards of several non-profit organizations, including the Jays Care Foundation, the Argos Foundation, Big Brothers of York Region, the Easter Seal Society and East Metro Youth Services.
Anil Shah

2015 -
Mr. Anil Shah is a chemical engineer by profession & a metal trader at heart is President of Ni-Met Metals & Minerals Inc., a company incorporated in 1990 in Toronto, Ontario Canada with the objective of trading in metals and allied industrial raw materials. Today, Ni-Met's highly diversified activities have given it a unique market position largely due to the business acumen, entrepreneurial vision and unending energy of its founder and head, Mr. Shah. Before this, he founded the company MARGI INDUSTRIAL SERVICES PVT. LTD. in 1983 in Mumbai and after establishing it and running for 7 years, migrated to Canada for backward integration. An avid golfer, Mr. Shah lives in Canada and is involved in many charitable organisation and is currently serving on board of a local hospital foundation.
Abbas Khan

2016 –
Abbas Khan is a visionary leader. He combines a consistent focus on continuous improvement with strong communication and interpersonal skills to drive organizational change, motivate and inspire staff to meet and exceed goals while providing recognition for their contributions. He was a member of the executive leadership team at Siemens Canada from 1995-1999 overseeing all financial, controlling, and operational elements within the Energy and Automation division, and Electromechanical Components division.
In 2000, Abbas joined Osram Sylvania Ltd. to lead logistics and distribution initiatives and served as Asset Management champion. In 2002, he was promoted to lead national service organization with a clear mandate for business restructuring and financial improvement. In 2005, Abbas transitioned to lead national sales and marketing activities for retail business. In 2007, Abbas accepted the position of President & CEO, Osram Sylvania Ltd., responsible for all sales, marketing, and distribution activities across Canada.
In 2011, Abbas joined Carrier Canada division of United Technologies Corporation, a leading manufacturer of Heating and Cooling products and solutions, as President & CEO of their Canadian operation with responsibilities for all sales, marketing, customer service, and distribution activities.
In 2013, Abbas joined Lafarge Canada Inc. a global leader in the manufacturing of Cement and Construction Materials as head of Marketing for Eastern Canada. His primary responsibility was to execute a differentiation strategy, transforming the organization to a solutions provider, and increasing commercial performance with added value initiatives.
Lorraine Lafrenière

2017 –
Lorraine is a strategic thinker with excellent people skills and an enthusiastic approach to challenges who has played a leadership role in the sport community for many years. Her passion for sport goes back decades to when she saw the incredibly powerful role athletes play in inspiring younger generations to stay active and healthy while making a contribution to society. She began her sport career with the Canadian Intramural Recreation Association 25 years ago before moving to the Canadian Olympic Committee in 1989. During her tenure as the COC's Media Relations Manager, she held several leadership positions with the mission staff at numerous Olympic Games, Pan American Games, and World Championships. In 2002 she was appointed Chief Operating Officer for the Coaching Association of Canada (CAC), a position she held for four years -- playing a key role in establishing sponsorship programs and strengthening the organization's relationships with the provinces/territories and federal government.
Following the CAC, she went on to head the Canadian Cycling Association where she restructured the organization and instilled financial stability. In 2009, she was hired as Director General of CanoeKayak Canada where she was instrumental in creating the teams and environment which led to CanoeKayak's three-medal performance at the 2012 Olympic Game. In total, she has participated in 9 Olympic Games, both summer and winter. Lorraine also has a strong volunteer commitment having sat on the boards and committees of many organizations, including the Ottawa Sports Hall of Fame, Canadian Cancer Society (Ottawa-Carleton), Run for the Cure, Big Sisters of Ottawa, and Ottawa-Carleton Epilepsy. She was also the co-chair of the 2004 Ontario Summer Games held in Ottawa and was named twice to the Canadian Association for the Advancement of Women in Sport and Physical Activity's (CAAWS) Most Influential Women List in 2015 and 2014.
Lorraine became the Chief Executive Officer of the CAC in December 2013.